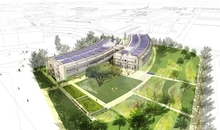 Resources

Related Research Areas

Data Mining and Knowledge Discovery, Diagnostics, Mitigation, Prognostics
Sustainability Base (N232) is a 50,000 sq ft high-performance office building on the NASA Ames campus. A goal of Sustainability Base is to provide a research testbed where different sustainable technologies and concepts can be implemented, tested, and demonstrated. Please see NASA's Sustainability Base for more details.
Attachments
Discussions
Popular Resources
Admin:
Started: Jan 20, 2014
Last Activity: Mar 31, 2016
What can I do on this project?
Any registered users can join
Anybody can view this project
Any registered users can leave comments
Anybody can view comments