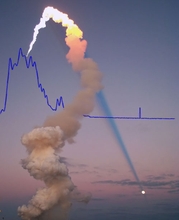 The Optical Plume Anomaly Detection (OPAD) system
is under development to predict engine anomalies
and engine parameters of the Space Shuttle's
Main Engine (SSME). The anomaly detection is
based on abnormal metal concentrations in the optical
spectrum of the rocket plume. Such abnormalities
could be indicative of engine corrosion or
other malfunctions.
See also Bryan Matthew's topic on Enceledus results:
https://dashlink.arc.nasa.gov/topic/enceladus-results/
Some helpful links on general blind source separation problems can be found at:
http://www.huginn.com/knuth/bse.html#ica
Attachments
| | |
| --- | --- |
| Srivastava and Buntine, AIAA Conference Proceedings, 1995. | 452.7 KB |
| Knuth K.H. 1999. A Bayesian approach to source separation. In: J.-F. Cardoso, C. Jutten and P. Loubaton (eds.), Proceedings of the First International Workshop on Independent Component Analysis and Signal Separation: ICA'99, Aussios, France, Jan. 1999, pp. | 217.1 KB |
| Virtanen et al. , Bayesian extensions to non-negative matrix factorisation for audio signal modelling, ICASSP 2008. | |
| Manevitz, L. M. and Yousef, M. 2002. One-class svms for document classification. J. Mach. Learn. Res. 2 (Mar. 2002), 139-154. | |
| Plumbley and Oja, A "nonnegative PCA" algorithm for independent component analysis, IEEE Transactions on Neural Networks, 2004. | |
Discussions
Popular Resources
Nothing to see here at the moment. Check back later.
Admin:
Editors:
Started: Sep 09, 2010
Last Activity: Sep 09, 2010
What can I do on this project?
Any registered users can join
Anybody can view this project
Any registered users can leave comments
Anybody can view comments